Next: Long Time Scale Modulations Up: The GRB Search Algorithms Previous: The GRB Search Algorithms &nbsp Contents

The data used for the GRB quest are the continuous 1 s ratemeters in two energy bands, 40-700 and

100 keV, from each of the four detector units. Because of the two usages of the GRBM (sec.
), the 40-700 keV band is called ``GRBM'' band (since the on-board trigger logic processes the 40-700 keV counts) and the

100 keV band is called ``AC'' band (since the AntiCoincidence shielding for the PDS detectors is applied to events that lose energies

100 keV in the GRBM). Hereafter, these names are adopted.

Figure: GRBM 1 s light curves, one for each energy band and for each unit (OP 11729, from July 31 to August 1, 2001). From top to bottom, the GRBM 1-4 and AC 1-4 bands are plotted. The duration is

s. The count rates are measured in counts/s: actually, for clarity, these rates are the averages of 20 s bins; however, in the GRBM band, softer than the AC band, it is apparent that there are more spikes. The repetitive structures have the same periodicity of the BeppoSAX orbital period; the periodic data gaps correpond to the SAGA passages.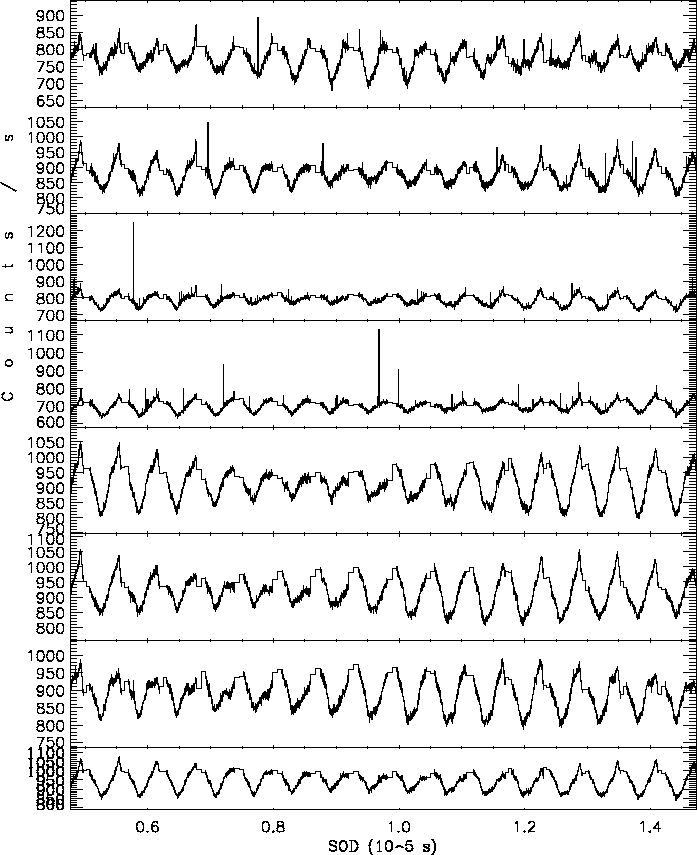 ---
Subsections
---





Next: Long Time Scale Modulations Up: The GRB Search Algorithms Previous: The GRB Search Algorithms &nbsp Contents Cristiano Guidorzi 2003-07-31