Next: GRB-SN Connection Up: The Afterglow Emission Previous: Radio Afterglows &nbsp Contents

As it is shown in fig.
, all the bursts, whose redshift has been measured, range between

and

, except for GRB980425 (

), that is likely to be connected with the peculiar SN 1998bw (see next paragraph).

As it is apparent from fig.
, the set of GRB with known redshifts is poor yet; on this subject, there has been an interest in trying to find out a relationship between redshift and some properties of the gamma light curves of the prompt emission, like time variability ([Reichart et al., 2001], [Fenimore and Ramirez-Ruiz, 2000], [Schaefer et al., 2001a], [Schaefer, 2001b]).
Figure: Isotropic energy, fluence and host magnitude (

and

filters) as a function of redshift (Nov 2001; from [Ghisellini, 2001]).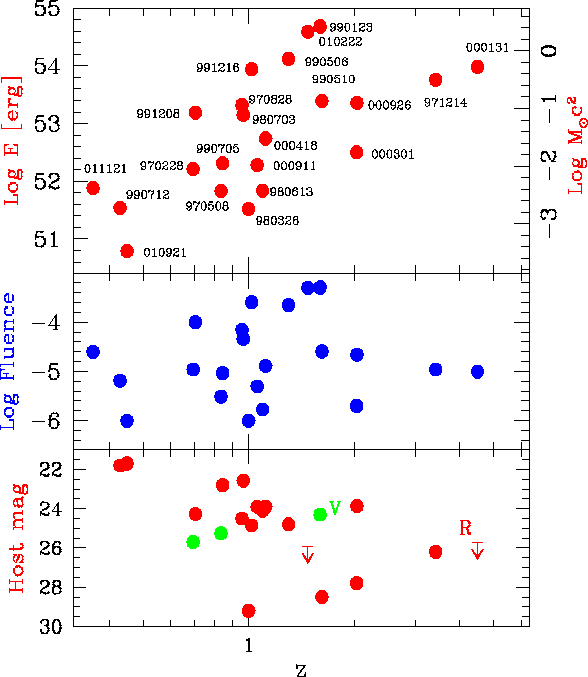 In fig.
the energy released (as calculated in the isotropic case), the fluence and the magnitude of the host galaxy are expressed as a function of the redshift

for the all the bursts with known redshift to date (Nov 2001).
---





Next: GRB-SN Connection Up: The Afterglow Emission Previous: Radio Afterglows &nbsp Contents Cristiano Guidorzi 2003-07-31