Next: Sky Exposure Up: Estimation of Physical Parameters Previous: Error Estimation &nbsp Contents



Durations
The automatic estimates of the GRB durations, as yielded by the off-line quest, do depend on the background rate: actually, in that case, the burst start and end times are taken, corresponding to the first and last bins, respectively, for which the GRB counts overcome some thresholds, still depending on the mean background rate.

In order to remove this duration dependence on the background rate, and also to compare the GRBM catalog results with those derived from BATSE ([Paciesas et al., 1999]), the duration estimates are computed in terms of

and

([Kouveliotou et al., 1993]), expressing the durations of the time intervals, lasting from the times corresponding from 5% to 95% and from the 25% to 75% of the total counts, respectively.
In particular, the technique described by [Koshut et al., 1996], has been adapted to the GRBM data, only for the 40-700 keV (GRBM) energy band; this choice was driven by the need to measure the durations also for the short bursts, for which the HTR data are required, and these data are available only for the GRBM band.
Figure:

Estimation for GRB000830, UT 11:39:08. Top panel:

ms light curve for the GRBM 3+2 energy bands. Bottom panel: integrated light curve, with the 0%, 5%, 95% and 100% fluence levels shown.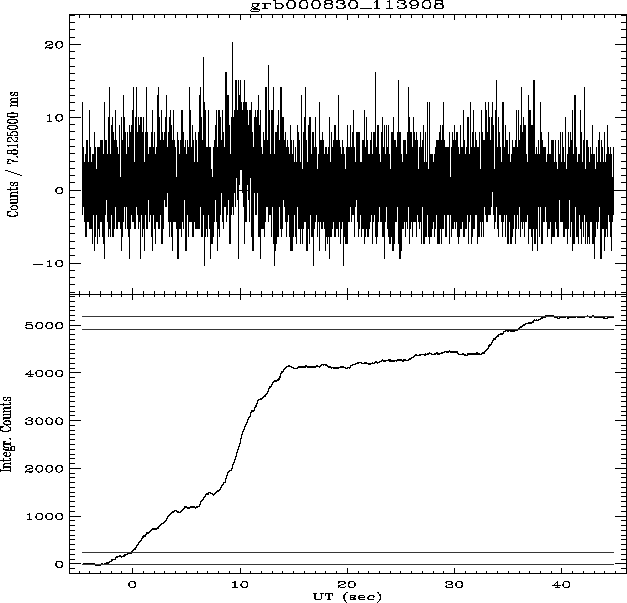 In order to choose the best GRBM light curve for estimating the burst duration, five SNRs are taken into account: these refer to the four total counts, one for each GRBM unit, while the fifth refers to the sum of the two brightest units. In fig.
the example of GRB000830, already considered within the previous sections, is shown: in this case, from the 1 s light curves, it comes out that the entire GRB is covered by the HTR data, since this particular burst has triggered the on-board logic. In such cases, the use of the HTR data instead of the 1 s data allows a better estimate of the

required for calculating

and

. The technique adopted applies to the integral background subtracted counts as a function of time: this function is fitted with a constant in two intervals, one before and one after the burst: the difference in counts between these levels correspond to the total counts, and

occur when this function is at 5%, 25%, 75%, 95% of the total fluence. In the example of GRB000830 (fig.
), the sum GRBM 3+2 has the best SNR, and it has been used for estimating the

and

, that have found to be

s and

s, respectively.
---





Next: Sky Exposure Up: Estimation of Physical Parameters Previous: Error Estimation &nbsp Contents Cristiano Guidorzi 2003-07-31